Make a decision!
Behind making a decision to study abroad, apart from childhood dreams and aspirations, there are many aspects that play an irreplaceable role. These include deciding upon the subject or discipline of interest, knowing the course of study, the fee structure of the course, employment prospects in the country chosen and the worldwide recognition of the degree to be received.
College vs. University
In the context of the United States, the terms 'college' and 'university' are mostly used interchangeably. In other countries like the UK and Australia too, they are treated the same at multi-levels, except that undergraduate courses are commonly found in colleges and post-graduate and doctorate courses in universities.
In fact, there are discipline-specific colleges in national universities, which is the most commonly found element of the higher education system in India as well. Therefore, generally it does not make a remarkable difference when choosing between a college or university as long as the course and country chosen is appropriate.
Step by Step…
In 4 simple steps, you can conveniently streamline the process of finding yourself the best place you can call your alma mater ten years down the line.
Choose your subject – The first and foremost step before you jump onto more complicated selections like the country and the cost is to choose the discipline you want your specialisation degree to be in. Amidst others, law, medicine, technology, arts (including performing arts like dance and music) and architecture are the most commonly sought out areas of study internationally.
Narrow down the courses – Once you've selected a subject, you can surf through the specific courses offered by different universities. The courses will have different kinds of curriculum and academic structure, from which you can choose what is best suited for your future expectations.
Cost and Country of Study – When you have narrowed down the universities according to the subject and courses, filter them on the basis of the countries you wish to study in (on the basis of how student-friendly the visa rules are) and the cost of the course including the cost of living. The UK, US, Australia and countries in Europe are the best countries to study abroad. This is the trickiest part where education consultants like IOCL come to your rescue.
Application process – The application process empanelled by the universities you have selected is also an area where you can seek help from consultants to choose the best pick. You can also prepare for various entrance examinations with their help.
There might be certain universities that might be the best but you need to choose what is right for you. What is the best might not be your perfect choice and thus, it is essential that you make the right decision.
Historical Background
In Europe, the concept of Higher Education found its genesis and many global universities came into being. Not just universities and colleges but higher education is also dispersed in multiple professional schools in diverse fields, including both conventional and non-conventional fields like science, law, business, medicine, finance, music and art.
Apart from direct educational and professional advantages of studying abroad through scholarships or otherwise, there is a gamut of positives that does not involve any academic angle.
Firstly, it is a first hand experience of living outside India, which helps students take their baby steps towards becoming independent.
Further, it also gives them an altogether different level of exposure and a huge amount of insight about educational standards and scholarships. From tackling changes and challenges, to settling in a foreign country, there are many experiences a student gets upon studying outside India.
One also gets to discover and learn about different cultures, ethnicities and rituals. This increases one's ability to adapt to new surroundings and environment.
Indian students and International Education: The trends
In India, the education sector has witnessed an upward trend in the number of students flying abroad for higher studies. While there are primary reasons like quality education, international career prospects, prestige, etc., there are many other peripheral incentives, which drive students to opt for different countries.
Amongst others, scholarships to study abroad are the driving force behind students choosing overseas graduation. There are both government and non-government scholarships like Fullbright scholarships and Tata Foundation and Birla Foundation scholarships, aiding students' dreams to study abroad.
There are many consultants like Impel Overseas Consultants facilitating the cumbersome process of applications to such international universities, thus making the jobs of students easier and helping them grow.
Not only does overseas education help the students to learn a new language in most cases, they also develop a knack to impress employers owing to a totally different experience of classroom learning. In fact, the students also get a gateway to a huge caboodle of opportunities abroad itself with respect to job prospects and employment.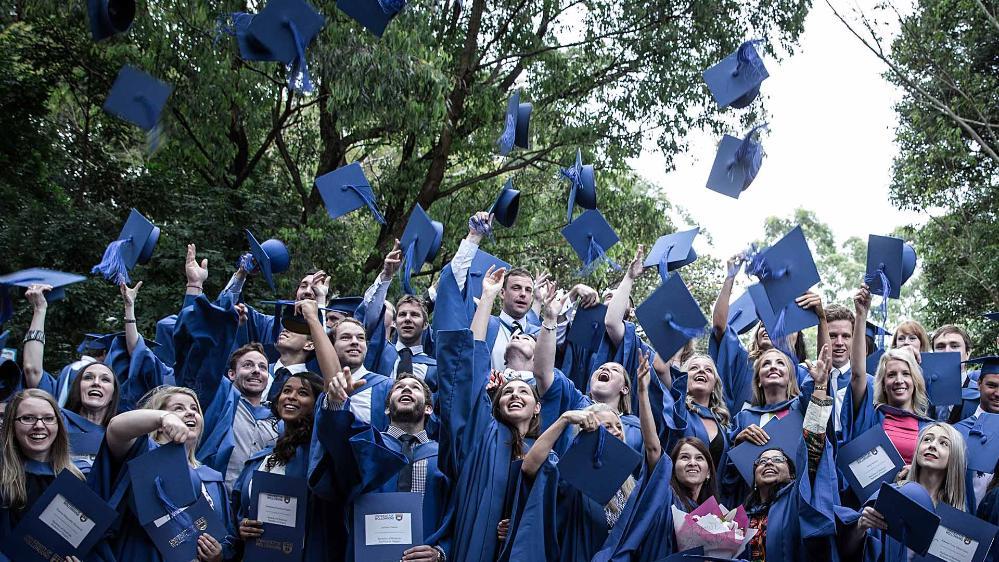 The University of Wollongong (UOW) has secured a spot in the world's top 200 institutions in the 2021 QS World University Rankings released today, Wednesday 10 June, 2020.
UOW's ranking has substantially improved from last year, jumping sixteen places to achieve an overall rank of 196th globally and 10th in Australia.
UOW competed with over1600 institutions globally, including 36 Australian institutions, and has jumped 87 places in six years due to its globally recognised research activities.
The ranking agency evaluates universities using six metrics: academic reputation, employer reputation, faculty to student ratio, citations per faculty member, and international faculty ratio, and international student ratio.
A marked improvement in citations per faculty member lifted UOW's ranking in this metric a stunning 33 places to 75th globally and was the strongest contributor to the University taking its place in the top 200.
UOW Vice-Chancellor, Professor Paul Wellings CBE, welcomed the new rankings and said the University's global approach to research partnerships and collaboration has underpinned this achievement.
"I am delighted to see our world-class research capabilities are making a global impact and these rankings recognise the efforts of our researchers through their strategic partnerships and collaborations.
"UOW research is dedicated to addressing real-world problems beyond the scope of a single discipline, in collaboration with industry, government and our wider communities.
"We should be proud that UOW is so highly ranked. Our long term investments in major research teams and the breadth of our academic work has driven the University forward," Professor Wellings said.
In April, UOW also ranked 31st globally in the Times Higher Education Impact Rankings 2020 for successfully delivering the United Nations Sustainable Goals (SDG). SDGs are the backbone of UOW's research strategy to tackle the world's most pressing and complex challenges. Read the full story here.
Source: https://www.uow.edu.au/media/2020/uow-ranks-in-the-worlds-top-200-universities.php
A mere 2% of prospective students in South Asia would "totally drop" the idea of studying overseas due to the coronavirus pandemic, a survey by counselling organisation Global Reach has revealed.
Mirroring similar findings from a Yocket survey earlier this year, close to 70% of the 1,572 respondents indicated they still had an interest in studying abroad in the July-September 2020 cohort despite Covid-19.
Although 40% said they would wait to commence until the pandemic is over, some 25% of applicants would rather defer than cancel.
Respondents included individuals from India, Nepal, Bhutan, Bangladesh and Sri Lanka, with around 90% seeking to pursue postgraduate studies overseas.
Half of the respondents revealed they were interested in studying in Australia, followed by those opting for the UK or Canada.
"Student interest with studying overseas remain strong as planned while travel uncertainties loom large," Global Reach said.
Travel restrictions and flight cancellations were a concern for 47%, while suspended visa processes were noted as a potential problem for 34%
Only 27% said they had health and safety concerns.
"Students' concerns range from getting paperwork done and finances ready for application to job opportunities after course completion and stay back options thereafter," Global Reach added.
"Close to 40% have expressed concern over not being able to embark on their study abroad journey as the visa centres are closed whereas about 30% are affected by their local university/school being closed, making it difficult for them to attain their transcripts for application processing."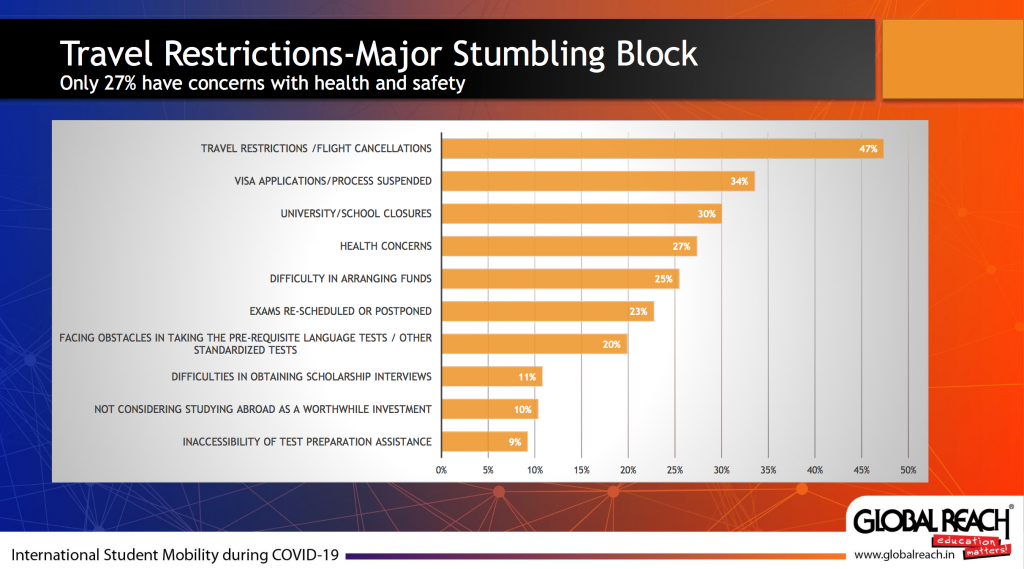 A quarter of students surveyed are open to online delivery, provided it is for one semester, and visa and post-study work rights are assured.
However, 50% said they were not interested in online delivery, with only 6% indicating they would be happy to pay the same price as on-campus education for off-campus remote delivered delivery.
"Basic face-to-face interactions and the experiences of on-campus lifestyle are key attractions to the scholars in the overseas education format," Global Reach added.
Earlier this week, the UK government announced that international students would still be eligible to access the graduate immigration route as long as they are in the country by April 6, 2021, and complete the final semester of their studies in the UK.
Additionally, a Universities UK survey found that 97% of responding institutions will offer in-person teaching at the start of term.
A survey of 850 Indian students earlier this year revealed that 50% of students could consider deferring their study plans due to concerns about the impact of Covid-19 on jobs & salaries, and personal health.
Global Reach has recently launched its "renewed" online platform PSA to offer semi-virtual handling of the student counselling process through a GR trained counsellor. The three-year-old platform generated around 10% of total student enquiries in 2019.
"Our vision is to use technology as an enabler to support every student in their quest for international education," said Ravi Lochan Singh, managing director of Global Reach.
Source: https://thepienews.com/news/south-asia-study-abroad-interest-remains-high-survey/
UK home secretary Sajid Javid has called for prime minister Theresa May's post-study work restrictions on international students to be lifted, arguing that the six-month limit undermines Britain's universities and harms the country's search for global talent.
In an article published by the Financial Times, Javid – a contender for the Conservative party leadership –  said he backed a cross-party move to liberalise the student visa regime led by former universities minister Jo Johnson.
Javid's intervention was welcomed by Johnson, who had tabled an amendment to the government's Immigration Bill in April, calling for a two-year post-study work visa option for international students.
Prior to 2012, international students could stay and work in the UK for two years after graduation until May (then home secretary) began a clampdown on immigration, capping PSW time at four months.
As a result, the number of Indian students attending UK universities underwent a dramatic decline, from just under 30,000 in 2011-12 to just over 16,000 in 2016-17.
Earlier this year, the government accepted recommendations for PSW to be extended to six months for undergraduate and master's students and a year for PhD students, however, some stakeholders argued that such a short extension was unlikely to "significantly increase interest".
Writing in the FT, Javid said if he succeeded May as prime minister he would make Johnson's clause for international students to have the right to stay on to work for two years "government policy".
"It makes no sense to send some of the world's brightest and most enterprising people straight home after their time here," he wrote.
"So as prime minister I would make Mr Johnson's plan government policy.
"I want to put skilled Britons in the same room as bright Europeans and those from other nations — in Manchester, Leeds and London, not Paris or Stockholm," he added.
Javid's comments received widespread support within the sector, with UKCISAchief executive Anne Marie Graham describing them as "a tremendous step forward for international students in the UK".
"[It] will contribute to the successful delivery of the International Education Strategy. I'm very grateful to Jo Johnson and Paul Blomfield for their work to achieve cross-party support for this important amendment," she said in a statement.
Nick Hillman, director of the Higher Education Policy Institute added: "This is fantastic news. The home secretary has seen, not least during his time as business secretary, how much harm the current rules are doing."
An analysis published earlier in 2019 revealed the UK's limitations on PSW cost the treasury £150 million each year in foregone receipts, amounting to just over £1bn since the restrictions were introduced in 2012.
Chief executive of Universities UK Alistair Jarvis said such a change in policy would "correct a longstanding policy barrier to growth in international student numbers".
"Growth in international enrolments in the UK has stagnated compared to our competitors, largely due to the uncompetitive visa offer," he said.
"This must change if we are to…remain a leading destination for overseas talent."
Source: https://thepienews.com/news/uk-home-secretary-calls-for-a-lifting-of-psw-restrictions-on-international-students/
The US Department of Homeland Security (DHS) confirmed this month that it is moving forward with significant increases in student visa fees.
All study visa applicants to the US are obliged to pay a fee that is levied by DHS's Student and Exchange Visitor Program (SEVP) in order to cover the costs of administering the Student and Exchange Visitor Information System (SEVIS). As DHS explains, SEVIS is used by the government to maintain information on Student and Exchange Visitor Program (SEVP)-certified schools, F-1 and M-1 students who come to the United States to attend those schools, US Department of State-designated Exchange Visitor Program sponsors and J-1 visa Exchange Visitor Program participants. It is a critical tool in our mission to protect national security while supporting the legal entry of more than one million F, M and J nonimmigrants to the United States for education and cultural exchange.
Effective 24 June 2019, DHS confirms that it will increase fees charged to students formally referred to he 1-901 SEVIS Fee as follows:
The I-901 SEVIS Fee for F and M international students that is, for students engaged in academic studies will increase from $200 to $350. This represents a 75% increase.
Those visiting the US on exchange programmes are in a different visa category, and apply for J-class visas. Those exchange visitors in the au pair, camp counselor, and summer work travel programme participant categories will continue to pay the current $35 I-901 SEVIS Fee. However, fees will use for all other J-class exchange visitors, from $180 to $220 (a 22% increase).
SEVP is funded entirely by fees, and does not receive any appropriated funding from Congress, said SEVP Program Director Rachel Canty, in explaining the increase. SEVP's fees have not changed since 2008, although our costs have continued to grow due to inflation, expanded programme operations and enhancements to [SEVIS]. The new and increased fees will enable the programme to continue to provide oversight of international students and SEVP-certified schools.
Educator concerns
Peak international education bodies in the US were quick to respond when the fee increases were first proposed in fall 2018. In a letter to SEVP's unit chief in September 2018, NAFSA's Deputy Executive Director of Public Policy, Jill Welch, said that, These dramatic increases come at a particularly inopportune time, as higher education institutions face significant funding challenges, and international education programmes are experiencing declining new enrolments for the first time in more than a decade.
She added, We anticipate that vigorous competition for international students from other countries that are currently expanding their enrolments will continue to exacerbate the early declines programmes are currently experiencing. Burdening students and exchange visitors with drastically increased fees may further contribute to declining enrolment, particularly in short-term programmes, and increased fees and steep new recurring fees may place some programmes in financial jeopardy…US immigration policies should be carefully crafted to avoid fueling the perception that the United States no longer welcomes international students or other international visitors.
Another joint letter from the executive directors of EnglishUSA, TESOL International Association, and UCIEP (University and College Intensive English Programs) echoes the point: We believe that such a significant increase in fees will have a number of negative consequences. In addition to creating additional financial barriers that will serve as a disincentive for students to study in the US, the proposed significant fee increase sends a signal to international students that they are not welcome. This could further reduce the number of international students who enroll in higher education institutions and English language programmes and therefore contribute to the national and local economies.
Fees for schools on the rise too
In addition to the increased fees for visiting students, DHS has also announced that fees charged to US schools will also be going up this year.
An existing fee for a schools initial SEVP certification will increase from $1,700 to $3,000.
The department will introduce a number of new fees for schools as well:
A $1,250 fee for SEVP-certified schools filing for recertification.
A $675 fee when schools file the Form I-290B, Notice of Appeal or Motion.
DHS will maintain a current $655 fee for an initial school site visit but will now also charge this fee when a SEVP-certified school changes its physical location or adds a new physical location or campus.
Source: http://monitor.icef.com/2019/05/us-confirms-increase-in-student-visa-fees/
Graduates from Irish universities stand to earn a slightly higher wage premium compared with graduates from some of the UK's most prestigious universities over the course of their lifetime, according to new research.
The average lifetime net premium for an undergraduate degree holder from an Irish university has been estimated at €106,000 by research firm Indecon.
By contrast, there is a UK premium of £88,000 (€103,000) for graduates from the prestigious Russell Group universities.
This 24-member group includes the University of Cambridge, Oxford and the London School of Economics.
The same research indicates that in Irish universities, master's degree holders' net premium rises to €146,000 and Ph.D. holders' net premium rises to €222,000.
These figures are net of tax and factor in the costs incurred by students in obtaining their degrees and income forgone during their years at university.
Universities' role
The details are contained in the first ever socio-economic impact research undertaken on the role universities play in the economy.
The report was commissioned by the Irish Universities Association (IUA), which has been highlighting what it says is the absence of a sustainable funding model for Irish universities.
While the State invests about €2 billion into the higher education system each year, the report estimates that the Irish economy benefits by almost €9 billion from Ireland's seven universities.
This is generated from a combination of premium on graduate earnings, the impact of research and income from overseas students.
It confirms that university graduates generate an income premium significantly beyond those with no third-level education and have consistently lower unemployment rates, even during the recession years.
The report also examines the impact of higher earnings among the cohort of new entrants to Irish universities last year.
It estimates that an individual undergraduate degree holder will generate a net gain for the exchequer of €62,000 over their lifetime in today's money when all costs to the exchequer are taken into account.
Similarly, it estimates that Irish universities make a total research impact of €1.5 billion to the economy.
Prof Brian MacCraith, chairman of the IUA, said the report provided a rigorous scientific analysis of the economic return university education generated in Ireland.
'Intolerable strain'
However, he warned that a 50 percent increase in student enrolments since 2000 was a precursor to an even greater demographic bubble which would place an "intolerable strain on the already under-resourced university system".
"Unless the Government and the broader political community are prepared to deliver a sustainable core funding solution, the opportunities afforded to today's students may be curtailed for many current and future primary and secondary students. As a society, we cannot let this happen," Prof MacCraith said.
Alan Gray, managing director of Indecon, said Ireland had a more highly educated population than the EU average, which is often cited as a key reason both multinational organizations and indigenous enterprises base operations here.
"Our analysis shows the positive impacts that universities have on research and innovation, on graduates' earning power and on the positive returns to the exchequer for their investment," he said.
Source: http://www.irishtimes.com/news/education/irish-university-graduates-earn-more-from-degrees-than-in-uk-1.3848600
MUMBAI: More than one lakh students from India enrolled in Australian educational institutions during 2008, constituting 12.4 per cent over the previous calendar year. China continued to lead with 2.56 lakh students (or 29 percent of the total).
Australia has announced an 'Additional temporary Graduate' visa with an extra year of post-study work rights for international students who graduate from the regional campus of a registered university. At present, students who study at the bachelor's or master's degree level in Australia (usually 2 or 3 years) get a two-year post-study work visa. By offering students an extra year in Australia on a post-study work visa if they study in regional areas, the country aims to kill two birds with one stone.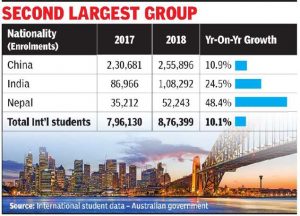 The 'additional temporary graduate' visa by Australia to the international students will help in its overall plan to decongest popular areas of Sydney, Melbourne, Perth, Brisbane and the Gold Coast. It will also help attract more international students.
As students need to graduate from a regional campus and then spend at least two years residing in a regional area to qualify, the 'Additional Temporary Graduate' visa will be available to the first eligible cohort of graduates from 2021, states a recent release from Australia's department of home affairs. For those students who are currently holding the Temporary Graduate (sub class 485) visa, which is the existing post-study work visa, ongoing residence in a regional area could qualify them for an additional year.
In a separate release dated March 20, Pm Scott Morrison announced new tertiary scholarships to attract Australian and international students to study in regional Australia. Worth Australian $15,000, these scholarships will be available to more than 1,000 local and international students each year.
Zahirah Ismail, Perth-based managing directior at the immigration service company Home of Visas, told TOI:" An additional year for graduates shows that policy-makers are acknowledging the difficulties faced by students as they attempt to gain relevant work experience. In several occupations, in order for an applicant to gain positive skills assessment, they are required to demonstrate at least three years of relevant work experience post their qualification. "she recommends that international students should look at employment prospects for each territory and best match this data against occupation lists for migration purposes.
Andrew Everett, deputy vice-chancellor and vice president, global strategy, at Charles darwin University, said:"CDU is examining how best to provide for international students who might qualify for an Additional temporary Graduate visa." Spread over various campuses, including regional campuses, 10% of CDU's 20,000 students are of foreign origin, the majority of them from India, Nepal, Bangladesh and China.
Several students also want to put down roots and work long term in the host country. In this context, Cyrus Mistry, director at EasyMigrate Consultancy Services, "Introduction of new Regional (Provisional) Visas, which provide an option of conversion to permanent residency after a tenure of three years, could also be attractive to international students, provided they are willing to settle in regional areas".
Source: https://timesofindia.indiatimes.com/india/indian-students-enrolling-in-australia-surged-25-in-2018/articleshow/68662108.cms
The new skilled regional provisional visas will be for skilled migrants, and dependent family members, who want to live and work in Australia.
There will be two new skilled regional provisional visas introduced in November 2019:
Skilled Employer Sponsored Regional (Provisional) visa: for people sponsored by an employer in regional Australia.
Skilled Work Regional (Provisional) visa: for people who are nominated by a State or Territory government or sponsored by an eligible family member to live and work in regional Australia.
Holders of the new skilled regional provisional visas will need to live and work in regional Australia. Visas will be granted with a validity period of up to five years.
Holders of the new skilled regional provisional visas will be able to apply for a Permanent Residence visa. The Permanent Residence (Skilled Regional) Visa will commence in November 2022.
Importantly, to be eligible for permanent residence, holders of the new skilled regional provisional visas will need to demonstrate they have lived and worked in regional Australia while holding one of the new Skilled Regional Provisional visas.
Benefits
Regional employers will have access to additional regional occupations to sponsor migrants and priority processing of regional visa applications. There will also be additional points for certain points-tested migrants who are sponsored to settle in regional Australia.
Employers in regional Australia, as well as State and Territory governments, who sponsor regional skilled migrants, will have access to more occupations than equivalent non-regional visas.
Based on current occupation lists, the Skilled Employer Sponsored Regional (Provisional) visa will have access to over 450 more occupations than closest non-regional equivalent visa, and the Skilled Work Regional (Provisional) visa will have access to over 70 more occupations than the closest non-regional equivalent visa.
Priority processing arrangements will be expanded to include all visa applications sponsored by regional employers as well as other visa applicants who will live and work in regional Australia.
Five additional points for regional nomination or sponsorship provide an extra incentive for potential migrants to consider settling in regional Australia.
Extra options for international graduates from regional institutions
This initiative provides for an additional Temporary Graduate visa with an extra year of post-study work rights for international students who:
graduate from the regional campus of a registered university or institution with higher education or postgraduate qualification; and
maintain an ongoing residence in a regional area while holding their first Temporary Graduate (subclass 485) visa
The second Temporary Graduate visa will require ongoing residence in a regional area.
The definition of regional Australia for this purpose will be the same as the definition for skilled migration – all of Australia except Sydney, Melbourne, Perth, Brisbane, and the Gold Coast.
As students need to graduate from a regional campus and then spend at least two years residing in a regional area to qualify, the additional Temporary Graduate visa will be available to the first eligible cohort of graduates from 2021.
Existing Temporary Graduate visa holders may be eligible, provided they can meet these requirements.
There is no change to Student visa arrangements.  This initiative simply provides an additional incentive for international students to study and live in regional Australia.
Changes to existing visas
The introduction of the two new regional visas in November 2019 will not impact people who already hold existing visas. Applications lodged prior to November 2019 will continue to be processed as normal. There will be no impact on the permanent residence of current permanent visa holders.
Check back regularly over the coming weeks for updates on this new initiative
Source: http://www.immi.homeaffairs.gov.au
New measures will allow international students to seek employment for up to a year
International students will be given visa extensions of up to a year to look for work in the UK as part of a package of government measures to boost numbers of overseas students after Brexit.
The move represents a break with current policy, where students are allowed to stay for just four months after graduation.
Announcing the strategy, the Department for Education (DfE) said: "There is no limit on the number of international students that can study in the UK, and to ensure the UK continues to attract and welcome them, the post-study leave period will be extended to six months for undergraduate and master's students, and a year for doctoral students."
The announcement said the government would also consider "how the visa process could be improved for applicants and supporting student employment", hinting at another possible change in policy.
Alongside the extended visas, the DfE and the Department for International Trade are to unveil an international education strategy with a 30% increase in overseas students in UK higher education during the next decade.
This would raise the number of non-UK students at British universities from 460,000 – including nearly 140,000 from the EU – to 600,000 by 2030, an ambitious target is given that EU students will face higher tuition fees and lose access to student loans after Brexit.
"As we prepare to leave the EU it is more important than ever to reach out to our global partners and maximise the potential of our best assets. That includes our education offer and the international students this attracts," Damian Hinds, the education secretary, said.
Janet Beer, vice-chancellor of Liverpool University and chair of UniversitiesUK, said her organisation had been in discussion with the government about the strategy for the past six months.
She said: "International students contribute a huge amount to the UK, not only economically but also by enriching the international education environment in our universities for all students. While their presence in the UK is worth an estimated £26bn in direct and knock-on effects, sustaining over 200,000 jobs in all parts of the UK, they bring much wider benefit to our academic and civic communities.
"We particularly welcome steps to improve the visa regime, including the extension of opportunities for our graduates to work in the UK once they graduate, to six months for undergraduates and master's students, and a year for those who undertake PhDs.
"We would like the government to go further and extend this opportunity to at least two years and we will continue to urge them on this point."
The visa extension follows a recommendation by the independent migration advisory committee last year, and the government's own white paper on skills-based immigration published in December. Currently, all graduates can stay for up to four months after finishing their courses, although those with PhDs can apply for an additional year.
Source: https://www.theguardian.com/education/2019/mar/16/visa-extension-overseas-students-uk-brexit?CMP=Share_AndroidApp_Facebook
Powered by