The latest student data from Immigration, Refugees and Citizenship Canada (IRCC) describes another year of very strong growth in Canada's international student enrolment.
The number of abroad students studying in the country rose 16.25% last year, marking a third consecutive year of double-digit growth and an overall overseas education increased 73% in the five years since 2014.
The number of international students holding Canadian study permits (as of 31 December) reached 572,415 in 2018, up from 492,545 the year before. This compares to the 690,468 foreign students in Australia as of November 2018, and the 458,490 EU and non-EU students in the UK during the 2017/18 academic year.
The last time we took a close look at the enrolment composition of each country, the UK was the second-ranked study destination in the world (after only the US), followed by Australia in third, and Canada in fourth. Based on the continued rapid growth of foreign student numbers in both Australia and Canada, it seems likely that there is further change afoot in that global table of leading study destinations.
Major growth markets
India continues to be a big story in Canada's international education sector. The number of Indian students grew by another 40% in 2018, for the total overall growth of just under 350% since 2014. This amounts to more than 172,600 Indian students in Canada last year, a benchmark that means that India will now surpass China as the leading sending market for Canada. Chinese numbers rose 2% last year to reach just under 143,000.
While they are showing contrasting trends in recent years – China is flattening out as India surges – the two countries together accounted for 55% of all visiting students in Canada.
More broadly, the top 20 source markets, as reflected in the table below, sent nearly 86% of Canada's foreign students in 2018.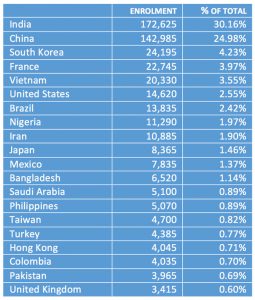 The top 20 sending markets for Canada, 2018. Enrolment and percentage of the total. Source: IRCC
Aside from India, the fastest-growing markets for Canada in 2018 included Bangladesh (+53%), Iran (+48%), Vietnam (+46%), Colombia (+41%), Philippines (+29%), Kenya (+29%), and Brazil (+17%).
In terms of the level of study, 13.5% of Canada's international students were in secondary schools, 76.5% in post-secondary programmes, and 10% in "other studies", including exchange programmes and language studies of six months' duration or more.
Home Office to extend scheme which streamlines process for international Masters students wanting to study in the UK.
A pilot which is looking at streamlining the process for international Masters students wanting to study in the UK has been extended to an additional 23 universities, the Immigration Minister announced today.
Currently in its 2nd year with the Universities of Oxford, Cambridge, Bath and Imperial College London, the pilot will streamline the process for international students looking to study on a Masters course of 13 months or less in the UK.
It also provides greater support for students who wish to switch to a work visa and take up a graduate role, by allowing them to remain in the UK for 6 months after they have finished their course.
Responsibility
Universities taking part are given responsibility for eligibility checks, meaning that students can submit fewer documents than required in the current process alongside their visa applications.
Applicants that do not meet immigration rules will be refused. All students will continue to require Home Office security and identity checks.
The additional 23 universities to benefit from the pilot include 2 in Scotland, 2 in Wales and 1 in Northern Ireland as well as universities from across England.
Immigration Minister Brandon Lewis said:
I am delighted to announce the expansion of this pilot which is part of our ongoing activity to ensure that our world-leading institutions remain highly competitive.
The UK continues to be the 2nd most popular destination for international students and the number coming to study at our universities has increased by 24% since 2010.
This is a clear indication that genuine students are welcome and there is no limit on the number who can come to study in the UK.
Increase
The most recent Home Office statistics show that the number of students applying for visas increased by 8% over the past year, and there has been a 9% increase in the number of students applying to Russell Group universities.
The 23 additional universities will be able to apply the pilot to their 2018/19 intake. The universities were selected as their visa refusal rates are consistently the lowest in their area or region.
The 23 universities to be added to the pilot are:
Cardiff University
Goldsmiths University of London
Harper Adams University
Newcastle University
Queen's University Belfast
The Royal Central School of Speech and Drama
University of Bristol
Durham University
University of East Anglia
University of Edinburgh
University of Essex
University of Exeter
University of Glasgow
University of Leicester
University of Liverpool
University of Manchester
University of Nottingham
University of Reading
University of Sheffield
University of Southampton
University of Wales Trinity St. David (Swansea Campus)
University of Warwick
University of York