The international border is reopening in stages for eligible travellers to enter New Zealand.
Who can travel to New Zealand now
You can travel to New Zealand now if you are:
a New Zealand citizen
a New Zealand permanent resident or resident visa holder
the partner or dependent child of a New Zealand citizen or resident, and you hold a visa based on this relationship
an Australian citizen or permanent resident visa holder
a working holiday visa holder
a work visa holder and you still meet the visa conditions
a student visa holder and you still meet the visa conditions
a visitor visa holder
a visa waiver traveller who holds a New Zealand Electronic Travel Authority (NZeTA)
someone who met a critical purpose reason to travel and was granted a visa as an exception to the border restrictions
a transit visa holder.
Visa waiver travellers and work, working holiday, visitor and student visa holders can leave and return to New Zealand, if their visa conditions allow for this.
NOTE
Before you can travel to New Zealand you must hold a valid visa or NZeTA.
Entry into New Zealand later in 2022
From July 2022
As part of step 4 New Zealand's borders will open to Accredited Employer Work Visa (AEWV) holders.
NOTE
The AEWV will mainly be limited to roles that pay above the New Zealand median wage. More information on this is available:
The maritime border reopens on 31 July 2022.
Visitor visa applications open to Pacific Island Forum countries from 16 May 2022
From 16 May, you can apply for a New Zealand visitor visa from a Pacific Island Forum country (excluding Australia).
The countries included are Cook Islands, Federated States of Micronesia, Fiji, French Polynesia, Kiribati, Nauru, New Caledonia, Niue, Palau, Papua New Guinea, Republic of the Marshall Islands, Samoa, Solomon Islands, Tonga, Tuvalu, and Vanuatu.
You can apply for a visitor visa if you are living in one of these countries, even if you are a citizen of another country.
Applications will need to be submitted online.
Remaining visas open in July 2022
Applications resume for all visa categories:
4 July 2022 – applications for work visas open, including the Accredited Employer work visa
31 July 2022 – applications for visitor visa and student visas open
Border exceptions will be phased out.
COVID-19 testing and vaccination requirements
Before travelling, check the COVID-19 website for guidance on:
Temporary visa applications
Applications for most temporary visas from people outside of New Zealand are suspended.
The following offshore temporary entry class visa applications can still be made:
relationship-based visas for partners and dependent children of New Zealand citizens and residents
visa applications made by people invited to apply because they have a critical purpose for being in New Zealand
visas for diplomatic, consular and official staff and accompanying dependants
Antarctic Traveller Visitor Visas and Antarctic Work Visas
Recognised Seasonal Employer (RSE) Limited Visas.
Short on time? Here are the highlights:
Most Australian states and territories have now announced student return pilots or broader plans to welcome back international students
Quarantine and testing requirements vary from state to state, as does the expected timing and pace of student returns
There has been a flurry of announcements from Australian states and territories in recent weeks. New student return pilots have been approved, and we now see a variety of timelines and arrival protocols in place for incoming students in the coming months.
If, like us, you have struggled to keep on top of the latest developments, we hope the following summary will be helpful. This information is current as of our publication date on 17 November and we will update this post with any further significant developments going forward.
Before we begin, a few other important items for context.
First, the Australian academic year – for higher education institutions – is generally structured around two semesters, beginning in February or March (depending on institution) and July and August. The Australian K-12 system follows a schedule of four terms beginning in January, April, July, and October.
Second, the Australian government has expanded its list of approved COVID vaccines in recent months. As of 17 November, the vaccines approved by Australia's Therapeutic Goods Administration (TGA) are:
Comirnaty (Pfizer)
Vaxzevria (AstraZeneca)
Covishield (AstraZeneca)
Spikevax (Moderna)
Janssen-Cilag (Johnson & Johnson)
Coronavac (Sinovac)
BBIBP-CorV (Sinopharm) (for 18-60 years old)
Covaxin (Bharat Biotech)
In order to be considered fully vaccinated, incoming travellers must have had two full doses at least 14 days apart (or one dose of the Janssen-Cilag/Johnson & Johnson vaccine), and must have completed their course of vaccination at least seven days before arriving in Australia.
Finally, vaccination rates within Australia, which had been lagging behind earlier this year, are beginning to increase more quickly. As of mid-November 2021, roughly 70% of eligible Australians are fully vaccinated against COVID-19.
With that foundation in place, here is a summary of the current student return plans for states and territories.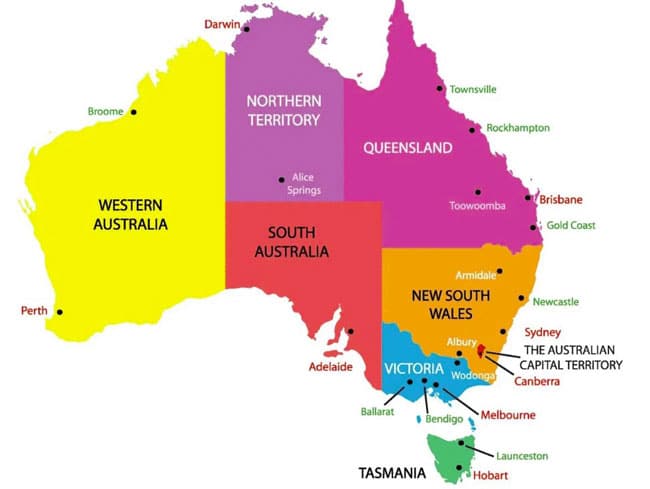 Australian Capital Territory
Capital city: Canberra
The Australian Capital Territory (ACT) announced on 22 October that it would welcome back fully vaccinated, international higher education students for the start of the 2022 academic year.
Returning students will need to follow all Australian government vaccination and testing requirements but will not be required to quarantine.
"It is great to have clarity about arrangements in the ACT and to know that as soon as the borders open our students can come straight home to campus," said Brian Schmidt, vice-chancellor of The Australian National University (ANU). "We will continue to work with the Commonwealth on arrangements to open the borders to students as soon as Australia safely can."
New South Wales
Capital city: Sydney
The New South Wales (NSW) government announced on 12 November that vaccinated students will be allowed to return to the state without quarantine.
The first chartered plane of returning students under the NSW International Student Arrivals Pilot Plan will touch down in Sydney on Monday, 6 December. That flight will carry about 250 students from over 15 countries, including Indonesia, Singapore, Vietnam, South Korea, China, and Canada.
"This is a significant milestone in our roadmap to recovery and I can't wait to welcome back such an important part of our community," said Premier Dominic Perrottet. "They don't just make a significant contribution to our economy, but international students play a role in our culture and contribute to our community and lifestyle."
Queensland
Capital city: Brisbane
On 26 October, Queensland's Minister for Tourism, Innovation and Sport, Stirling Hinchliffe, announced the state will welcome back international students in early 2022. All incoming students will be required to complete a two-week quarantine at a designated facility.
The first phase of the Queensland Student Arrivals Plan will see continuing students from universities in the state return to complete their studies. The plan prioritises those studying medical, medical research, and allied health disciplines. The state anticipates a phased approach with eligibility criteria for education providers and students, and the number of places, expanding at each phase.
"While remote learning has made it possible for students to continue Queensland university studies from their home countries, we recognise it isn't a sustainable, long-term substitute for to face-to-face tutorials and practical experience. We also know international students make an important contribution to the culture of Queensland cities and our regions." said Minister Hinchliffe.
South Australia
Capital city: Adelaide
The South Australian government has announced that the state will welcome fully vaccinated domestic and international arrivals (including international students) with no quarantine period once 90% of South Australians (aged 12+) are fully vaccinated.
It is expected that the 90% target will be reached in late December 2021.
Study Adelaide is providing regular updates and additional background on its website.
Tasmania
Capital city: Hobart
Tasmania has also announced its roadmap to reopen, with all vaccinated international travellers able to enter without quarantining from 15 December. All arriving travellers must provide a negative COVID-19 test.
Victoria
Capital city: Melbourne
Victoria has also approved a safe student return pilot, for which students will be required to complete a 14-day quarantine. The first charter flights with returning students are expected in December 2021.
Western Australia
Capital city: Perth
The state government has announced that Western Australia (WA) will welcome back fully vaccinated international students in time for the start of the new academic year in February 2022.
The official reopening date will be set once Western Australia achieves an 80% double vaccination rate, which is expected to occur in December 2021.
In the meantime, Education Minister Sue Ellery has confirmed that the government anticipates a reopening date in late January or early February 2022, which would "allow eligible international students to arrive in time for Semester 1 2022 or to commence any required English language tuition or other preparatory courses before Semester 2."
Northern Territory
Capital city: Darwin
International Education Minister Nicole Manison announced this month that the territory is preparing a plan for approval by the national government. If confirmed, the plan will see chartered flights landing returning students in the territory in January 2022.
"International students are a massive contributor to the territory economy, with each student contributing an average of AUS$40,693 each year," the minister explained to ABC News. "By facilitating a pathway for international students to return to the territory and to Australia, we are helping to diversify the economy, grow our population, and support local jobs."
Source: – https://monitor.icef.com/2021/11/australia-an-overview-of-international-student-return-plans/
You must complete this form before you arrive in the UK. You cannot submit the form until 48 hours before you're due to arrive in the UK.
This is a free service. You do not need to pay another website or business to provide your contact details for you.
You'll need to show your completed form when you arrive at the UK border, either by printing a copy, or showing it on your phone.
The government will use this information to contact you if you or someone you've travelled with develops coronavirus (COVID-19) symptoms.
If you need to self-isolate for the first 14 days after you arrive in the UK, the government will also use the information to check that you're self-isolating.
If you develop coronavirus symptoms
Do not travel if you have coronavirus symptoms.
If you develop coronavirus symptoms when you're travelling to the UK, tell the crew or driver on your plane, ferry, train or bus. They'll tell staff in the airport, port or station, so they can tell you what you should do next when you arrive.
If you're travelling with other people
You and the people you're travelling with must all complete a separate form.
If you're travelling with someone under 18 years old, they do not need their own form if you:
will arrive and leave together
will stay at the same UK address
add their details into your form
If you will enter the UK more than once in 48 hours
You can include multiple journeys in your form if you will enter the UK more than once in 48 hours, for example if you're a haulier or crew member.
Who does not need to complete the form
You do not need to complete the form if you're travelling from one of the following places, and you were there for 14 days or more:
Ireland
the Channel Islands
the Isle of Man
There are other reasons why you might not need to complete the form. Read the list of who does not need to complete the form.
Before you start
You'll need:
your passport details
the name of the airline, train or ferry company you're travelling with
the name of the company organising your tour group – if you're travelling as part of a tour group
your booking reference
the name of the airport, port or station you'll be arriving into
the date you'll be arriving
your flight, train, bus or ferry number
the address you'll be staying at for your first 14 days in the UK
details of someone who can be contacted if you get ill while you're in the UK
If you're travelling by Eurostar or Eurotunnel:
put 'Eurostar' or 'Eurotunnel' when the form asks 'What is the flight number, train service or ship name that you will arrive on?'
provide your scheduled time of departure
Contact the helpline if you need help with completing the form or have questions about self-isolation.
Source: https://www.gov.uk/provide-journey-contact-details-before-travel-uk
London: Britain's new visa system, which toughens entry requirements for non-English speaking migrants but makes it easier for skilled workers, has been welcomed as "great news" for Australians.
The strict new rules, aimed at ending the private sector's reliance on "cheap labour", are intended to come into effect next year when Britain formally leaves the EU and the free movement system.
Under the Conservatives' long-promised "point-based" immigration system, which it claims to have modelled on Australia's scheme, Australians and other non-EU citizens will be treated equally.
Under the EU's free movement rules, all Europeans, including unskilled and non-English speaking migrants from EU countries, have been able to live and work in the UK while Australians have faced tougher barriers because of the government's commitment to lowering overall migration.
People who want to work in the UK will need to earn 70 points to qualify for a visa.
They will need to prove they have a job offer from a sponsor, that the job is skilled and that they speak English to a certain level.
The job must pay a minimum of £25,600 ($49,689) which is below the old threshold of £30,000 which is roughly equal to the UK's average salary of £30,353 ($58,957) according to Britain's Office for National Statistics. Exceptions will be made for people applying to fill shortages, for example in the health sector as well as for those who have PhDs.
It is estimated the system would disqualify around 70 per cent of the existing EU workforce.
Elizabeth Ames from the Britain-Australia Society said the level playing field was good news for Australians hoping to forge a career in the UK.
"Today's announcement of the new British visa system is great news for Australians looking to live and work in the United Kingdom," Ames said.
"By creating a level playing field for all applicants worldwide, it ensures that talented Australians will be able to come and contribute to the United Kingdom, further cementing the already strong links between our two countries."
In Britain, the changes were strongly criticised as too tough and harmful to the economy.
The Home Secretary Priti Patel conceded that even her own mother, from Uganda, would not have been welcome under the changes.
"This isn't about my background or my parents," she said when confronted with the proposition on London talkback radio station LBC.
"This is a very different system to what has gone on in the past and don't forget this is a points-based system based on the labour market."
"We are not changing our approach to refugees and asylum seekers, which is very different to a points-based system for employment," Patel said.
The Home Office told business to adapt to the new system and stop relying on "cheap, low-skilled labour".
Carolyn Fairbairn from the CBI said the private sector was resilient but the changes posed a challenge.
"This can be adapted to overtime, businesses are very resilient and they will adapt but the fact that this new system is coming in at the end of this year…very challenging," Fairbairn told Britain's Sky News.
Source: theage.com.au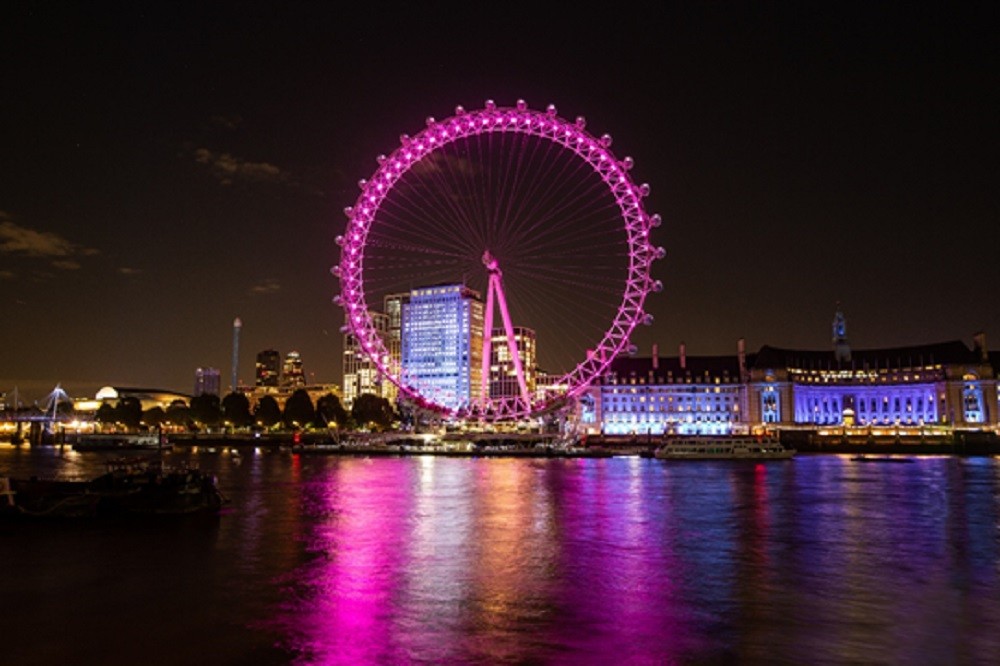 According to newly released data from the UK's Higher Education Analysis Agency (HESA), Indian students take up the third spot after China and US in the London overseas student market. The rise in India's position comes at the cost of Italy which slipped down to fourth place, followed by France in fifth place.
The number of Indian students in London has risen by 34.7 percent in 2018-19, marking the largest numbers since 2011. The data, which was revealed on Wednesday, shows India has climbed back to the third position from its fall to the fourth position three years earlier.
According to the stats, 25,650 students in London's international student market are from China. The US is in second place with 7,460 students followed closely by India in third place with 7,158 students. The total international student numbers at London's universities in 2018-19 was 125,035, up by 5.8 per cent from the year before.
The Mayor of London's official promotional agency London and Partners said "Applications may have been encouraged by the recent reintroduction of the two-year post-study visa for international students by the UK government, allowing overseas graduates a longer period of time to look for employment after their studies."
Source: SI-UK
UK home secretary Sajid Javid has called for prime minister Theresa May's post-study work restrictions on international students to be lifted, arguing that the six-month limit undermines Britain's universities and harms the country's search for global talent.
In an article published by the Financial Times, Javid – a contender for the Conservative party leadership –  said he backed a cross-party move to liberalise the student visa regime led by former universities minister Jo Johnson.
Javid's intervention was welcomed by Johnson, who had tabled an amendment to the government's Immigration Bill in April, calling for a two-year post-study work visa option for international students.
Prior to 2012, international students could stay and work in the UK for two years after graduation until May (then home secretary) began a clampdown on immigration, capping PSW time at four months.
As a result, the number of Indian students attending UK universities underwent a dramatic decline, from just under 30,000 in 2011-12 to just over 16,000 in 2016-17.
Earlier this year, the government accepted recommendations for PSW to be extended to six months for undergraduate and master's students and a year for PhD students, however, some stakeholders argued that such a short extension was unlikely to "significantly increase interest".
Writing in the FT, Javid said if he succeeded May as prime minister he would make Johnson's clause for international students to have the right to stay on to work for two years "government policy".
"It makes no sense to send some of the world's brightest and most enterprising people straight home after their time here," he wrote.
"So as prime minister I would make Mr Johnson's plan government policy.
"I want to put skilled Britons in the same room as bright Europeans and those from other nations — in Manchester, Leeds and London, not Paris or Stockholm," he added.
Javid's comments received widespread support within the sector, with UKCISAchief executive Anne Marie Graham describing them as "a tremendous step forward for international students in the UK".
"[It] will contribute to the successful delivery of the International Education Strategy. I'm very grateful to Jo Johnson and Paul Blomfield for their work to achieve cross-party support for this important amendment," she said in a statement.
Nick Hillman, director of the Higher Education Policy Institute added: "This is fantastic news. The home secretary has seen, not least during his time as business secretary, how much harm the current rules are doing."
An analysis published earlier in 2019 revealed the UK's limitations on PSW cost the treasury £150 million each year in foregone receipts, amounting to just over £1bn since the restrictions were introduced in 2012.
Chief executive of Universities UK Alistair Jarvis said such a change in policy would "correct a longstanding policy barrier to growth in international student numbers".
"Growth in international enrolments in the UK has stagnated compared to our competitors, largely due to the uncompetitive visa offer," he said.
"This must change if we are to…remain a leading destination for overseas talent."
Source: https://thepienews.com/news/uk-home-secretary-calls-for-a-lifting-of-psw-restrictions-on-international-students/
The US Department of Homeland Security (DHS) confirmed this month that it is moving forward with significant increases in student visa fees.
All study visa applicants to the US are obliged to pay a fee that is levied by DHS's Student and Exchange Visitor Program (SEVP) in order to cover the costs of administering the Student and Exchange Visitor Information System (SEVIS). As DHS explains, SEVIS is used by the government to maintain information on Student and Exchange Visitor Program (SEVP)-certified schools, F-1 and M-1 students who come to the United States to attend those schools, US Department of State-designated Exchange Visitor Program sponsors and J-1 visa Exchange Visitor Program participants. It is a critical tool in our mission to protect national security while supporting the legal entry of more than one million F, M and J nonimmigrants to the United States for education and cultural exchange.
Effective 24 June 2019, DHS confirms that it will increase fees charged to students formally referred to he 1-901 SEVIS Fee as follows:
The I-901 SEVIS Fee for F and M international students that is, for students engaged in academic studies will increase from $200 to $350. This represents a 75% increase.
Those visiting the US on exchange programmes are in a different visa category, and apply for J-class visas. Those exchange visitors in the au pair, camp counselor, and summer work travel programme participant categories will continue to pay the current $35 I-901 SEVIS Fee. However, fees will use for all other J-class exchange visitors, from $180 to $220 (a 22% increase).
SEVP is funded entirely by fees, and does not receive any appropriated funding from Congress, said SEVP Program Director Rachel Canty, in explaining the increase. SEVP's fees have not changed since 2008, although our costs have continued to grow due to inflation, expanded programme operations and enhancements to [SEVIS]. The new and increased fees will enable the programme to continue to provide oversight of international students and SEVP-certified schools.
Educator concerns
Peak international education bodies in the US were quick to respond when the fee increases were first proposed in fall 2018. In a letter to SEVP's unit chief in September 2018, NAFSA's Deputy Executive Director of Public Policy, Jill Welch, said that, These dramatic increases come at a particularly inopportune time, as higher education institutions face significant funding challenges, and international education programmes are experiencing declining new enrolments for the first time in more than a decade.
She added, We anticipate that vigorous competition for international students from other countries that are currently expanding their enrolments will continue to exacerbate the early declines programmes are currently experiencing. Burdening students and exchange visitors with drastically increased fees may further contribute to declining enrolment, particularly in short-term programmes, and increased fees and steep new recurring fees may place some programmes in financial jeopardy…US immigration policies should be carefully crafted to avoid fueling the perception that the United States no longer welcomes international students or other international visitors.
Another joint letter from the executive directors of EnglishUSA, TESOL International Association, and UCIEP (University and College Intensive English Programs) echoes the point: We believe that such a significant increase in fees will have a number of negative consequences. In addition to creating additional financial barriers that will serve as a disincentive for students to study in the US, the proposed significant fee increase sends a signal to international students that they are not welcome. This could further reduce the number of international students who enroll in higher education institutions and English language programmes and therefore contribute to the national and local economies.
Fees for schools on the rise too
In addition to the increased fees for visiting students, DHS has also announced that fees charged to US schools will also be going up this year.
An existing fee for a schools initial SEVP certification will increase from $1,700 to $3,000.
The department will introduce a number of new fees for schools as well:
A $1,250 fee for SEVP-certified schools filing for recertification.
A $675 fee when schools file the Form I-290B, Notice of Appeal or Motion.
DHS will maintain a current $655 fee for an initial school site visit but will now also charge this fee when a SEVP-certified school changes its physical location or adds a new physical location or campus.
Source: http://monitor.icef.com/2019/05/us-confirms-increase-in-student-visa-fees/
Graduates from Irish universities stand to earn a slightly higher wage premium compared with graduates from some of the UK's most prestigious universities over the course of their lifetime, according to new research.
The average lifetime net premium for an undergraduate degree holder from an Irish university has been estimated at €106,000 by research firm Indecon.
By contrast, there is a UK premium of £88,000 (€103,000) for graduates from the prestigious Russell Group universities.
This 24-member group includes the University of Cambridge, Oxford and the London School of Economics.
The same research indicates that in Irish universities, master's degree holders' net premium rises to €146,000 and Ph.D. holders' net premium rises to €222,000.
These figures are net of tax and factor in the costs incurred by students in obtaining their degrees and income forgone during their years at university.
Universities' role
The details are contained in the first ever socio-economic impact research undertaken on the role universities play in the economy.
The report was commissioned by the Irish Universities Association (IUA), which has been highlighting what it says is the absence of a sustainable funding model for Irish universities.
While the State invests about €2 billion into the higher education system each year, the report estimates that the Irish economy benefits by almost €9 billion from Ireland's seven universities.
This is generated from a combination of premium on graduate earnings, the impact of research and income from overseas students.
It confirms that university graduates generate an income premium significantly beyond those with no third-level education and have consistently lower unemployment rates, even during the recession years.
The report also examines the impact of higher earnings among the cohort of new entrants to Irish universities last year.
It estimates that an individual undergraduate degree holder will generate a net gain for the exchequer of €62,000 over their lifetime in today's money when all costs to the exchequer are taken into account.
Similarly, it estimates that Irish universities make a total research impact of €1.5 billion to the economy.
Prof Brian MacCraith, chairman of the IUA, said the report provided a rigorous scientific analysis of the economic return university education generated in Ireland.
'Intolerable strain'
However, he warned that a 50 percent increase in student enrolments since 2000 was a precursor to an even greater demographic bubble which would place an "intolerable strain on the already under-resourced university system".
"Unless the Government and the broader political community are prepared to deliver a sustainable core funding solution, the opportunities afforded to today's students may be curtailed for many current and future primary and secondary students. As a society, we cannot let this happen," Prof MacCraith said.
Alan Gray, managing director of Indecon, said Ireland had a more highly educated population than the EU average, which is often cited as a key reason both multinational organizations and indigenous enterprises base operations here.
"Our analysis shows the positive impacts that universities have on research and innovation, on graduates' earning power and on the positive returns to the exchequer for their investment," he said.
Source: http://www.irishtimes.com/news/education/irish-university-graduates-earn-more-from-degrees-than-in-uk-1.3848600
MUMBAI: More than one lakh students from India enrolled in Australian educational institutions during 2008, constituting 12.4 per cent over the previous calendar year. China continued to lead with 2.56 lakh students (or 29 percent of the total).
Australia has announced an 'Additional temporary Graduate' visa with an extra year of post-study work rights for international students who graduate from the regional campus of a registered university. At present, students who study at the bachelor's or master's degree level in Australia (usually 2 or 3 years) get a two-year post-study work visa. By offering students an extra year in Australia on a post-study work visa if they study in regional areas, the country aims to kill two birds with one stone.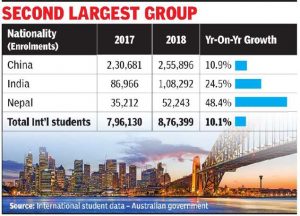 The 'additional temporary graduate' visa by Australia to the international students will help in its overall plan to decongest popular areas of Sydney, Melbourne, Perth, Brisbane and the Gold Coast. It will also help attract more international students.
As students need to graduate from a regional campus and then spend at least two years residing in a regional area to qualify, the 'Additional Temporary Graduate' visa will be available to the first eligible cohort of graduates from 2021, states a recent release from Australia's department of home affairs. For those students who are currently holding the Temporary Graduate (sub class 485) visa, which is the existing post-study work visa, ongoing residence in a regional area could qualify them for an additional year.
In a separate release dated March 20, Pm Scott Morrison announced new tertiary scholarships to attract Australian and international students to study in regional Australia. Worth Australian $15,000, these scholarships will be available to more than 1,000 local and international students each year.
Zahirah Ismail, Perth-based managing directior at the immigration service company Home of Visas, told TOI:" An additional year for graduates shows that policy-makers are acknowledging the difficulties faced by students as they attempt to gain relevant work experience. In several occupations, in order for an applicant to gain positive skills assessment, they are required to demonstrate at least three years of relevant work experience post their qualification. "she recommends that international students should look at employment prospects for each territory and best match this data against occupation lists for migration purposes.
Andrew Everett, deputy vice-chancellor and vice president, global strategy, at Charles darwin University, said:"CDU is examining how best to provide for international students who might qualify for an Additional temporary Graduate visa." Spread over various campuses, including regional campuses, 10% of CDU's 20,000 students are of foreign origin, the majority of them from India, Nepal, Bangladesh and China.
Several students also want to put down roots and work long term in the host country. In this context, Cyrus Mistry, director at EasyMigrate Consultancy Services, "Introduction of new Regional (Provisional) Visas, which provide an option of conversion to permanent residency after a tenure of three years, could also be attractive to international students, provided they are willing to settle in regional areas".
Source: https://timesofindia.indiatimes.com/india/indian-students-enrolling-in-australia-surged-25-in-2018/articleshow/68662108.cms
The new skilled regional provisional visas will be for skilled migrants, and dependent family members, who want to live and work in Australia.
There will be two new skilled regional provisional visas introduced in November 2019:
Skilled Employer Sponsored Regional (Provisional) visa: for people sponsored by an employer in regional Australia.
Skilled Work Regional (Provisional) visa: for people who are nominated by a State or Territory government or sponsored by an eligible family member to live and work in regional Australia.
Holders of the new skilled regional provisional visas will need to live and work in regional Australia. Visas will be granted with a validity period of up to five years.
Holders of the new skilled regional provisional visas will be able to apply for a Permanent Residence visa. The Permanent Residence (Skilled Regional) Visa will commence in November 2022.
Importantly, to be eligible for permanent residence, holders of the new skilled regional provisional visas will need to demonstrate they have lived and worked in regional Australia while holding one of the new Skilled Regional Provisional visas.
Benefits
Regional employers will have access to additional regional occupations to sponsor migrants and priority processing of regional visa applications. There will also be additional points for certain points-tested migrants who are sponsored to settle in regional Australia.
Employers in regional Australia, as well as State and Territory governments, who sponsor regional skilled migrants, will have access to more occupations than equivalent non-regional visas.
Based on current occupation lists, the Skilled Employer Sponsored Regional (Provisional) visa will have access to over 450 more occupations than closest non-regional equivalent visa, and the Skilled Work Regional (Provisional) visa will have access to over 70 more occupations than the closest non-regional equivalent visa.
Priority processing arrangements will be expanded to include all visa applications sponsored by regional employers as well as other visa applicants who will live and work in regional Australia.
Five additional points for regional nomination or sponsorship provide an extra incentive for potential migrants to consider settling in regional Australia.
Extra options for international graduates from regional institutions
This initiative provides for an additional Temporary Graduate visa with an extra year of post-study work rights for international students who:
graduate from the regional campus of a registered university or institution with higher education or postgraduate qualification; and
maintain an ongoing residence in a regional area while holding their first Temporary Graduate (subclass 485) visa
The second Temporary Graduate visa will require ongoing residence in a regional area.
The definition of regional Australia for this purpose will be the same as the definition for skilled migration – all of Australia except Sydney, Melbourne, Perth, Brisbane, and the Gold Coast.
As students need to graduate from a regional campus and then spend at least two years residing in a regional area to qualify, the additional Temporary Graduate visa will be available to the first eligible cohort of graduates from 2021.
Existing Temporary Graduate visa holders may be eligible, provided they can meet these requirements.
There is no change to Student visa arrangements.  This initiative simply provides an additional incentive for international students to study and live in regional Australia.
Changes to existing visas
The introduction of the two new regional visas in November 2019 will not impact people who already hold existing visas. Applications lodged prior to November 2019 will continue to be processed as normal. There will be no impact on the permanent residence of current permanent visa holders.
Check back regularly over the coming weeks for updates on this new initiative
Source: http://www.immi.homeaffairs.gov.au
Powered by