In a normal academic year, this week would have marked the end of classes for the winter semester at many Canadian universities and colleges, followed by a transition to final exams and the packing up of campus for the summer break.
Needless to say, this year has been anything but normal so far. During the month of March, Canadian higher education institutions – along with primary and secondary schools, language training centres, and other education providers – closed their buildings and campuses to in-person instruction and transitioned to deliver some or all of their programmes online. Many are now poised to continue to do so through spring and summer, and contingency planning for the 2020/21 academic year is ramping up even as the COVID-19 pandemic continues to take hold.
A recent survey by the Canadian Bureau for International Education (CBIE) points to a high level of concern among Canadian providers. Nearly eight in ten institutional respondents said that one of their primary concerns is that inbound students (or researchers or faculty) would be unable to take up or continue their studies or research in Canada.
A 26 March media release from Languages Canada also sounds the alarm for the country's language training sector, and raises the real prospect that a number of schools could be forced to close as a result of the crisis.
"We felt the impact of COVID-19 a little earlier than everyone else, as practically all of our clients are international students who come to Canada to learn English or French. Many students have left the country," said Gonzalo Peralta, Languages Canada's executive director. "Currently, all of our private sector members' classes are empty…We need substantial emergency help before it is too late and we have to rebuild everything from scratch."
As is the case in most other leading ELT destinations, Languages Canada continues to press the federal government for targeted funding to help buffer the sector from the economic fallout of the pandemic.
This all comes on the heels of a remarkable performance by Canada as the world's fastest-growing study destination over the last several years. By the end of 2019, there were nearly 643,000 visa-holding international students in the country and international education had become a leading Canadian export sector.
While the response to the crisis continues to evolve across all levels of government, here are some of the important policy directions that have emerged to this point.
Travel exemption confirmed
Canada effectively closed its borders to international travellers in a phased closure between 16 March and 18 March, and those travel restrictions remain in place today.
However, as we noted in an earlier report, Immigration, Refugees and Citizenship Canada (IRCC) announced on 20 March that, "Exemptions to the air travel restrictions will apply to foreign nationals who have already committed to working, studying, or making Canada their home, and travel by these individuals will be considered essential travel for land border restrictions."
A significant qualifier here is that that exemption applies only to international students who held a valid study permit, or had been approved for a study permit, when the travel restrictions took effect on 18 March. The exemption will not apply to those whose study permit applications were approved after the border closures fully came into effect on that day.
IRCC has since confirmed that the exemption for international students officially came into force as of 26 March, meaning that eligible students may once again travel to Canada.
Those travelling by air will need to undergo a health check conducted by their airline before boarding a flight to Canada. Their health will again be assessed on arrival in Canada, and all incoming students will be required to self-isolate for 14 days immediately after arrival.
That the travel exemption is now officially in place is only the first step in welcoming new or returning students to Canada in the coming weeks and months. Restrictions on travel remain in place for many sending markets as well and flight capacity is greatly reduced. Newly arrived students will also need additional support for settlement and housing, both during their initial quarantine period and after.
Post-graduate work eligibility
In guidance updated on 29 March, IRCC also confirms that eligibility for the Post-Graduate Work Permit program will not be affected for those international students whose courses are now being delivered online on "an exceptional basis due to COVID-19".
This is a significant development in that distance or online learning courses are not normally classed as eligible studies for purposes of a PGWP application.
The very-popular PGWP program allows international students who have completed a programme of at least eight months' duration to stay on to work in Canada for up to three years, experience that can count towards a future application for permanent residency in the country.
International students eligible for emergency support
As of 6 April, the Government of Canada has begun to accept applications for the newly announced Canada Emergency Response Benefit (CERB). The programme provides emergency funding of CDN$500 per week for up to 16 weeks.
The government has confirmed that international students can be eligible for the CERB so long as they meet the following programme requirements:
They live in Canada, and are at least 15 years old;
They have been forced to stop working because of COVID-19;
They had income of at least CDN$5,000 in 2019 or in the 12 months prior to the date of their application; and
They expect to be without employment income for at least 14 consecutive days in the initial four-week period.
University Affairs magazine provides a cautionary note on the programme in that, "The previous-income requirement, however, disqualifies many student employees. Plus, students who rely on summer jobs to subsidise their schooling have seen most of those [jobs] disappear as the unemployment rate skyrockets. All of this leaves the student population facing a dire financial situation over the next several months."
While this is an important point, international students who have been in Canada, and working in the range of the allowed limit of 20 hours per week during their studies over the past year, may well meet the minimum income threshold for CERB.
Access to Visa Application Centres
IRCC advises that many Canadian Visa Application Centres (VACs) are closed or operating under reduced hours at this time.
New applicants for Canadian study permits are advised to apply online wherever possible, and to at least check on the current status of their local VACs before trying to apply in person.
IRCC further notes that, "If your VAC is closed and you need to contact us urgently, use the web form. Do not go to a visa office."
International students who want to work in Canada following their studies at a Canadian institution will have more time to apply for the country's popular Post-Graduation Work Permit (PGWP). The PGWP allows international students who have completed a program of at least eight months' duration to stay on to work in Canada for up to three years, exan perience that can count towards a future application for permanent residency in the country.
Double the amount of time to apply
Under changes to the program announced on 14 February, where students used to have only 90 days to apply for a PGWP following the completion of their program, they now have twice that amount of time – six months (180 days) – to apply. The 180-day period begins when students' final marks have been issued or when they receive a formal written notification of their program completion.
In addition, the application rules regarding PGWP have also been relaxed to the effect that:
Students will no longer need to possess a valid study permit to apply – the study permit only needs to have been valid at some point during the 180-day period;
Students may apply for a PGWP from their home country, meaning that they may return home for up to six months after finishing their program without jeopardizing their chances of obtaining a work permit for employment in Canada.
David Cohen, a senior partner at the Campbell Cohen Canadian immigration law firm in Montreal, commented that, "This is huge news for international graduates who are applying for a Post-Graduation Work Permit. Doubling the amount of time they have to apply and allowing them to do so beyond the expiration date on their study visa will make a world of a difference for students who want to stay and gain valuable Canadian work experience."
How the PGWP relates to immigration
The PGWP is an important component of the Canadian government's bid to attract talented international student graduates to bolster the country's labor force. When international students in possession of these work permits gain employment experience in Canada, they also gain the ability to amass points that they can apply to their application to become Canadian immigrants. These points are considered in their application for permanent residency under the Canadian Experience Class, which is part of the Express Entry selection program administered by Immigration, Refugees, and Citizenship Canada (IRCC).
A recent survey conducted by the Canadian Bureau for International Education (CBIE) revealed that 70% of Canada's international students want to work in the country following their studies and that six in ten wanted to immigrate to Canada in the future.
Canada is one of the five most popular study abroad destinations in the world, and the country's post-study work rights and immigration policies are a significant driver of the country's attractiveness among international students.
The number of international students holding Canadian study permits (as of 31 December 2018) reached 572,415 in 2018, up from 492,545 the year before. This compares to the 690,468 foreign students in Australia as of November 2018, and the 458,490 EU and non-EU students in the UK during the 2017/18 academic year.
Source: http://monitor.icef.com/2019/03/canada-eases-application-requirements-for-post-study-work-permits/
The latest student data from Immigration, Refugees and Citizenship Canada (IRCC) describes another year of very strong growth in Canada's international student enrolment.
The number of abroad students studying in the country rose 16.25% last year, marking a third consecutive year of double-digit growth and an overall overseas education increased 73% in the five years since 2014.
The number of international students holding Canadian study permits (as of 31 December) reached 572,415 in 2018, up from 492,545 the year before. This compares to the 690,468 foreign students in Australia as of November 2018, and the 458,490 EU and non-EU students in the UK during the 2017/18 academic year.
The last time we took a close look at the enrolment composition of each country, the UK was the second-ranked study destination in the world (after only the US), followed by Australia in third, and Canada in fourth. Based on the continued rapid growth of foreign student numbers in both Australia and Canada, it seems likely that there is further change afoot in that global table of leading study destinations.
Major growth markets
India continues to be a big story in Canada's international education sector. The number of Indian students grew by another 40% in 2018, for the total overall growth of just under 350% since 2014. This amounts to more than 172,600 Indian students in Canada last year, a benchmark that means that India will now surpass China as the leading sending market for Canada. Chinese numbers rose 2% last year to reach just under 143,000.
While they are showing contrasting trends in recent years – China is flattening out as India surges – the two countries together accounted for 55% of all visiting students in Canada.
More broadly, the top 20 source markets, as reflected in the table below, sent nearly 86% of Canada's foreign students in 2018.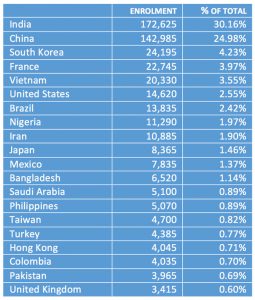 The top 20 sending markets for Canada, 2018. Enrolment and percentage of the total. Source: IRCC
Aside from India, the fastest-growing markets for Canada in 2018 included Bangladesh (+53%), Iran (+48%), Vietnam (+46%), Colombia (+41%), Philippines (+29%), Kenya (+29%), and Brazil (+17%).
In terms of the level of study, 13.5% of Canada's international students were in secondary schools, 76.5% in post-secondary programmes, and 10% in "other studies", including exchange programmes and language studies of six months' duration or more.
The maple country Canada is one of the top destinations recognized for overseas studies. Broadly, education in Canada is very reasonable as compared to other developed countries like Australia, US etc. The foreign students prefer Canada due to the emerging work opportunities and multicultural society. Canada in the present time has curled out a new open work permit scheme to attract foreign students. Canada faces a dearth of skilled labor; the Government of Canada has taken compelling steps to assist foreign students who wish to remain in the country following their graduation. The Minister of Citizenship and Immigration has announced that under the Post-Graduate Work Permit Program, foreign students would be allowed to apply for a three-year work permit from within the country, without having a job offer in hand, as long as they completed at least a two-year course of study. The students who had pursued a shorter course of study would be able to obtain a work permit for a length of time equal to that of the studies they pursue in Canada. The standard of living and education in Canada are acclaimed among the highest globally. The living expenses and school fees for foreign students are also more affordable compared to other destinations of international education. Scholarships are granted for excellent foreign students who want to study abroad in Canada.
One can discover almost all of the ethnic groups of the world in Canada. So it becomes easier foods and activities that can bring wonderful memories at home. Canadian universities usually have international student centres that help foreign students to acclimate to the multicultural society of Canada. To get a chance to study in Canada helps you with an opportunity to explore the culture over there and to promote positive understanding of multicultural diversity. Canada's renowned dynamic and well-adaptive academic setting, foreign students not only gains knowledge and skills for a global career, but also they learn how to acquire a different perspective of the world through critical thinking, self-expression and creativity. These are the things that many people use to enhance their career when they return to their homeland, or to have a chance in staying in Canada after their successful completion of graduation
Source:http://blogs.visassimply.com/overseas-education-study-in-canada/
Powered by