Education System
The education system in Australia provides top notch opportunities for International students seeking world-class academic and individual experience. It provides qualitative education which is highly regarded and widely recognized allover. Australian offers diverse courses, which covers 12 years of primary and secondary education. There is a vast range of study courses available in Australian education, which includes traditional academic programs in addition to the further practical and vocational courses.
FEATURED UNIVERSITIES IN AUSTRALIA


Primary School
Primary education of Australia is seven years of preliminary courses, where children commence their education at the age of 5 years (Year-1) and will be completing at the age of 12 (Year-7). This level of education provides general education for the students and gets them ready for a role in society and for the next level of education.
Secondary School
Students move to secondary school (Year-8) at the age of 12 and it is mandatory to complete their two years of 'junior high school' till the Year-10, after which they have the option to discontinue their education or can pursue their further course of study. Students have to accomplish another 2 years of 'high school diploma' (Year-12). Students leaving their school after 'junior high school' can also go for vocational education course or for apprenticeship training to enter the work force.
Tertiary School
After completing final year (Year-12) of secondary school, students head for their higher (Tertiary) education that awards degree for Bachelors, Masters and Doctoral studies. Mostly students from overseas come for education at this level. Tertiary education in Australia is within the purview of the Australian Qualification Framework (AQF), which aspires to integrate both vocational and higher education into a solitary classification of tertiary education.
Admission Support Kit – Australia
Australia's higher education offers several types of courses that are discussed below:
(a)Vocational Education & Training (VET)
These courses are offered by TAFE (Technical and Further Education) colleges and other private institutions. The tenure of VET courses can be one or two years depending on the field of study and knowledge of employment experience.
Diploma:It is a 1-2 year full time course of study that offers high professional qualification. Diploma under AQF is a dual-sector qualification – higher education sector and vocational education & training sector. Diploma of higher education sector is depended on the selection of the academic program by the functional focus that provides general or specified training for employment at high professional level. They can coherent to advanced diploma courses and can provide advanced standing or credit transfer (usually one year) into a Bachelor Degree program.
Advanced Diploma:It is a specialized level requirement that needs 2 years of full-time study. Advanced Diploma under AQF is a dual-sector qualification – higher education sector and vocational education & training sector. Advanced Diploma of higher education sector has units from Bachelor's degree course that provides exit point with a stand-alone requirement with an option to pursue their bachelor's degree. Advanced Diplomas can provide advanced standing or credit transfer (usually two years) into a Bachelor Degree program.
Associate Degree: This course of study needs the eligibility of 2 years of full-time education program that highlights preliminary research-based expertise of one or more academic disciplines and the progress of standard work skills. Associate degree provides advanced standing or credit transfer (usually two years) into a Bachelor Degree program in the same field.
(b)Bachelor Degree:
Acquiring a Bachelor's degree from Australia offers an imposing method of discerning you from your associates. Apart from acquiring a universally recognized university, you can experience a modern and inspiring culture. There are many divisions in Bachelor's degree of Australia that includes, '3-year degrees', '4-year degrees', 'professional degrees', 'combined degrees' and 'Honours degrees'. Despite the length or specifics of the program requirements, all the Bachelor degree courses are directed towards similar educational outcomes.
Foundation Courses (For International Students)-It is most suitable for students looking for Australian Bachelor's degree for the course of medical/ paramedical/science and do not get the required minimum scores in their Year-12. Normally intake will be during the months of January, June and October.
(c)Postgraduate Education
Admission for Master's degree (postgraduate program) requires completion of Bachelor's degree with certain exceptions for pertinent work experience. The qualifications are based on the institution and the course for Master's degree adopted. They can be:
Master Degree by Coursework – Entry on the basis of Bachelor Degree, Honours Bachelor Degree or Graduate Diploma
Master Degree by Research – Entry on the basis of Bachelor Honours Degree, Master preliminary year, a research-based Graduate Diploma or equivalent research experience, and
Professional Master Degree – Entry on the basis of Bachelor Degree with appropriate work experience. Entry may also be based on articulation from a Graduate Certificate or Graduate Diploma program
(d)Doctoral Degree
Doctorate degree is the top level of education award offered by Australian universities. It requires minimum qualification of Master's degree in the chosen field of study. Conversely, students' degrees with work experiences should articulate the knowledge of the discipline in which student plan to initiate their research.
Research Doctorate– Entry on the basis of a research or part-research Master Degree or a Bachelor Honours Degree (First or Second Class, Upper Division)
Professional doctorate – Entry on the basis of the combination of research and coursework Masters Degree, or by a Bachelor Honours Degree (First or Second Class, Upper Division) or equivalent.
Credit Transfer:This is the system of appreciating the student's preceding level of education so that their study will not be repeated. This facility is available for both undergraduate and postgraduate courses. There will be much complexity in transfer of credits and highly dependant on the formal study for which recognition is required. It helps students to move between courses and institutions and provide various opportunities to accomplish their prospective and respond for varying employment needs.
Academic Year:The academic year for Australia commence in the month of February and ends in November. Many universities and colleges also accept enrolments in July. Many universities and vocational institutes conduct semester end exams in June and November. There is a four to six week break between semesters and a long summer holiday from December to February. Some institutions operate on a three semester (trimester) calendar or a four semester (terms) calendar.
The below diagram shows the different study options that students have after completing different levels of education
Year 10
Year 11 and then year 12
A vocational program (certificate 1 to certificate 3 depending upon the ability of the student .the course may be held in a school, at a TAFE college or at private collegeYear 11
A one year foundation course to prepare for university entry
A certificate 4 programmeYear 12
A foundation programme
A certificate 4 programme
University undergraduate programme
A vocational diplomaDiploma
A university undergraduate programme in year 2 , this again depends on the recognition that the university provides to the diplomaAdvanced Diploma
A university undergraduate programme in year 3 , this again depends on the recognition that the university provides to the diplomaBachelor degree (Under Graduate)
A one-year "Honours" degree (for students who have the ability)
A postgraduate qualificationMasters degree
(Post Graduate)
PhD The diagram below explains how the Australian Qualification Framework enables smooth articulation options across the study sectors and levels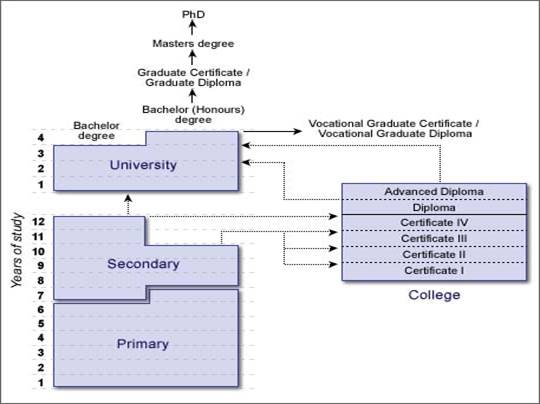 References: