Admission into US Universities is one half of the process. The other and the more important half is obtaining a visa. Especially for students, getting a student (F-1) visa was always a nightmare.
Yet, with careful planning, preparation and proper guidance from Impel experts, the process becomes easier, with successful result. As a result of several changes within the USCIS, visa process has been simplified, while at the same time improving the safety and security procedures in order to safeguard their country's interests.
To study in USA, international students have to attend US Embassy/Consulate for visa interview. Before that, students have to receive the I-20 or IAP-66 form (for J1 visa) from the US University. This form confirms the student's admission in the university.
For the students who want to study in USA should initially get the admission from any university or educational institution of USA before commencing the visa process. The visas issued for students are then classified into three categories:
F1 Visa – issued for the students applied to study in USA or to conduct research at an accredited US university.
M1 Visa – issued for the students applied for Non-academic or Vocational Studies in USA or for training at a non-academic institution.
J1 Visa – issued for the students applied for academic studies as an exchange visitor through a designated sponsoring organization that includes educational and cultural exchange programs
Visa officers who conduct the interview (and review the applications overall) consider several factors before you could be considered for grant of a visa.
Is the applicant genuine? – This can be proven by applying for an appropriate program that is compatible with your academic background and future plans.
Is the applicant eligible? – Many students apply and get admission in programs that are not suitable to their academic profile. Without proper eligibility makes one suspicious.
Does the applicant have sufficient funding? – By providing necessary resources and evidence, you can substantiate your case.
Does the applicant have future plans? – If you do not have proper future plans, it is difficult to convince the visa officer about your reasons to study in the US.
Finally, Will the applicant come back? – By providing strong evidence of your ties to your homeland, you could address this worry of the visa officer.
The process of reviewing visa applications has become more sophisticated with Bio-metric (finger-printing) requirement, review of applicants for /illegal/dangerous activities and the careful consideration of applicants' intent to enter the US.
In few circumstances the visa officer may also demand further application review in Washington DC. Some visa applicants may need to undergo an extra review process if they seek to engage in a commercial exchange or academic pursuit involving certain designated fields of advanced technology. As a visa applicant, you have to recognize that these name-checking and registration processes are necessary and crucial elements that protect the citizens and visitors.
Admission Support Kit – USA
Checklist of Required Documents
The following is a list of some of the documents that you are supposed to carry along with you on the day of VISA interview: S.No.Mandatory Documents
S.No.
Mandatory Documents
1
Valid Passport with at least 6 months validity
2
I-20 duly signed, Acceptance letter (if any), financial letter /scholarship(if
any)
3
Visa Application fee (US $ 160) receipt. [NEFT / IMPS / DRUK Bank / Axis Bank / Citi Bank]
4
DS-160 Submission Confirmation page
5
OFC Confirmation page [for Finger Prints Scan at Visa Application Center]
6
Web Receipt of Appointment Confirmation from www.vfs-usa.co.in
7
One Photograph (size 2" x 2") as per specifications given at the end of this page [not mandatory, but suggestible to carry].
8
SEVIS fee Receipt of US $ 200 through website www.fmjfee.com

Academic Documents

9
Original marks sheets and certificates of all qualifications starting from SSC (10th standard) to the highest qualification, including any marks sheets that reflect back logs, if any
10
TOEFL/IELTS/GRE/SAT/GMAT score sheets in original
11
Extra Curricular Activities, Work Experience Certificates, Merit Certificates
& Appointment letter (if any)
12
Leave/Relieving letter from the employer if you are already working

Financial Documents

13
Proof of liquid funds(refer to proof of liquid funds document)
14
Proof of movable assets(refer to movable assets document)
15
Proof of immovable/fixed assets(refer to fixed assets document) List of property
documents to be furnished when the same is used as a collateral to obtain a loan
or when shown as a fixed asset or as a source of income Valuation reports of the
property ( refer to format_ Certified engineer report )
16
Proof of income from the sponsors ( refer to eligible sponsors & income
proof document)
17
Proof of relation with the sponsor ( refer to sponsorship affidavit
& how to establish relation with sponsor)
18
Financial statement from Chartered Accountant (refer to CA statement format)
Visa Application and Fee Information
You must schedule two appointments, one for the for Finger Prints Scan at Visa Application Center (VAC) and one for the Visa Interview at the US Embassy or Consulate. 1. Schedule your visa interview appointment at the US Embassy or Consulate. 2 .Schedule your appointment at VAC. This appointment will allow you to go to the VAC locations to have your fingerprints and photo taken. This appointment must be at least 1 day before your visa interview appointment at the US Embassy or Consulate.
First create a profile here and choose the Schedule Appointment option. On the payment confirmation screen you will be presented with payment options and further details of how to initiate payment. This can take up to 4 to 24 hours from the time of payment for your receipt to be activated.
National Electronic Funds Transfer (NEFT) * New
Mobile Payments – IMPS * New
Cash – Over the Counter at DRUK Bank
Cash – Over the Counter (AXIS Bank and Citibank)
Application Fee: Nonimmigrant visa application processing fee (USD $160 equivalent)
SEVIS Fee: Payment of US $200 for the SEVIS fee.
Note: Do not forget to carry your original passport and copy of the I-20 when you go to make payment at Bank
Photo Requirements
When submitting the visa application form it is essential to attest a passport size photo consistent with the absolute requirement of US consulate. The photograph has to be an unmounted full face picture, with the dimensions of 50 sq.mm i.e., 2/2 inches, where the applicants head has to be in the center of the frame. It has to be taken not before the last 6months. The photo has to be affixed to the application form by stapling or with gum.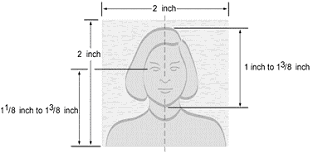 Note: Please follow these instructions carefully. If photographs presented do not meet requirements your application will be considered incomplete